BIBLE STUDIES - UNLOCKING THE MYSTERY OF THE BIBLE
FEAST DAY 50TH JUBILEE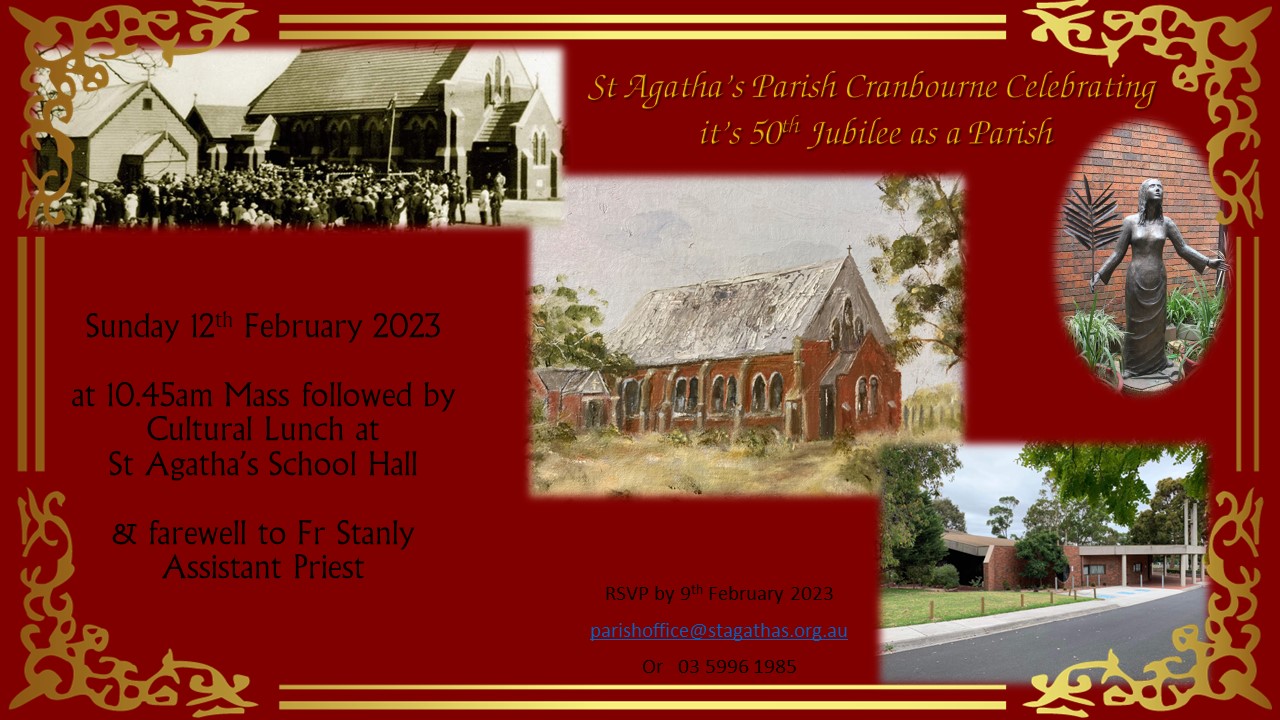 Sunday 12th February 2023
Commencing at 10.45am Mass, followed by a procession and multi-cultural cuisine lunch at St. Agatha's School Hall. A great day for all!
We will be farewelling Fr. Stanly
For catering purposes please place your name on in the clipboard in the foyer, please register if you're attending, bringing a plate or would like to help setup or clean up.
Plastic cups and plates may be single-use, but that does not mean it is easily disposable for our environment.
This year we urge everyone to bring their own reusable cup and plate for the feast day luncheon.
FIRST RECONCILIATION PARENT INFORMATION WORKSHOP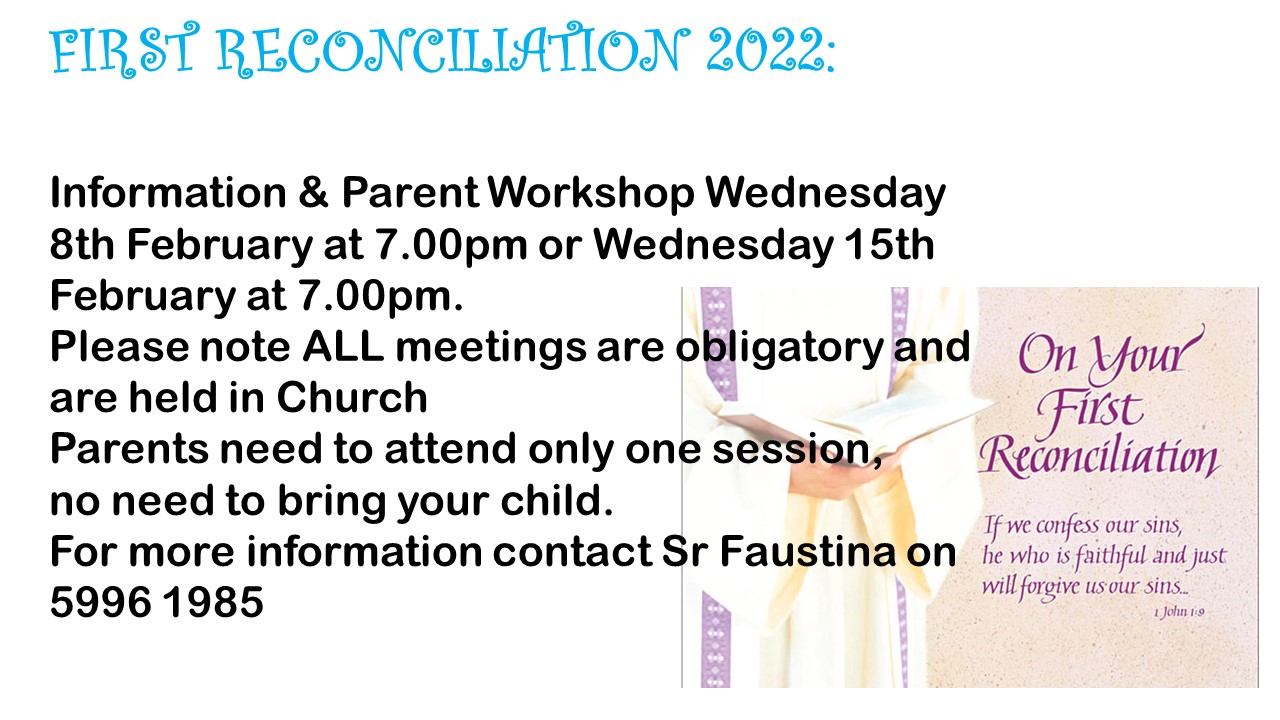 RE Classes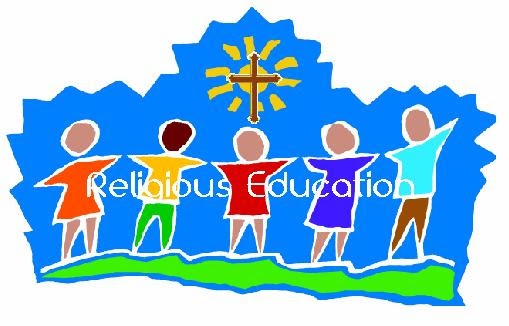 Religious Education Classes
Classes resume on Wednesday 1st February at 4.00pm.

Do you have children who attend
Government Schools Grades Prep-6 ?

If so you may wish to enrol them for the Catechetical Program which is held on Wednesday's during school terms 4pm to 5pm in the hall. Please collect enrolment forms from the parish office on 5996 1985.
YOUTH DONATIONS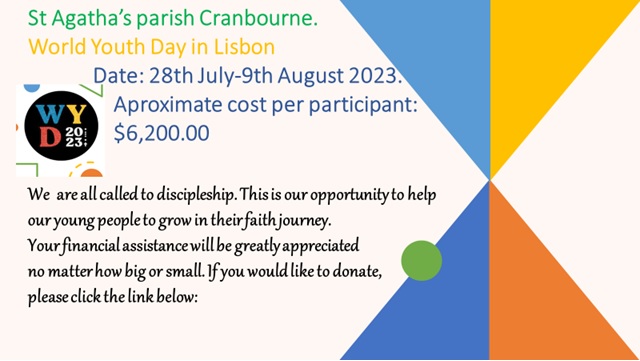 PARISH SACRAMENTAL DATES FOR 2023
Reconciliation Parent Information Session & Workshops: 7.00pm Wednesday 8th February & Wednesday 15th February St Agatha's Church. Parents need only attend one session.

Confirmation Parent Information Session & Workshops: 7.00pm Wednesday 3rd May & Wednesday 10th May St Agatha's Church. Parents need only attend one session.

First Communion Parent Information Session & Workshops: 7.00pm Wednesday 19th July & Wednesday 26th July St Agatha's Church. Parents need only attend one session.
WORLD YOUTH DAY FUNDRAISER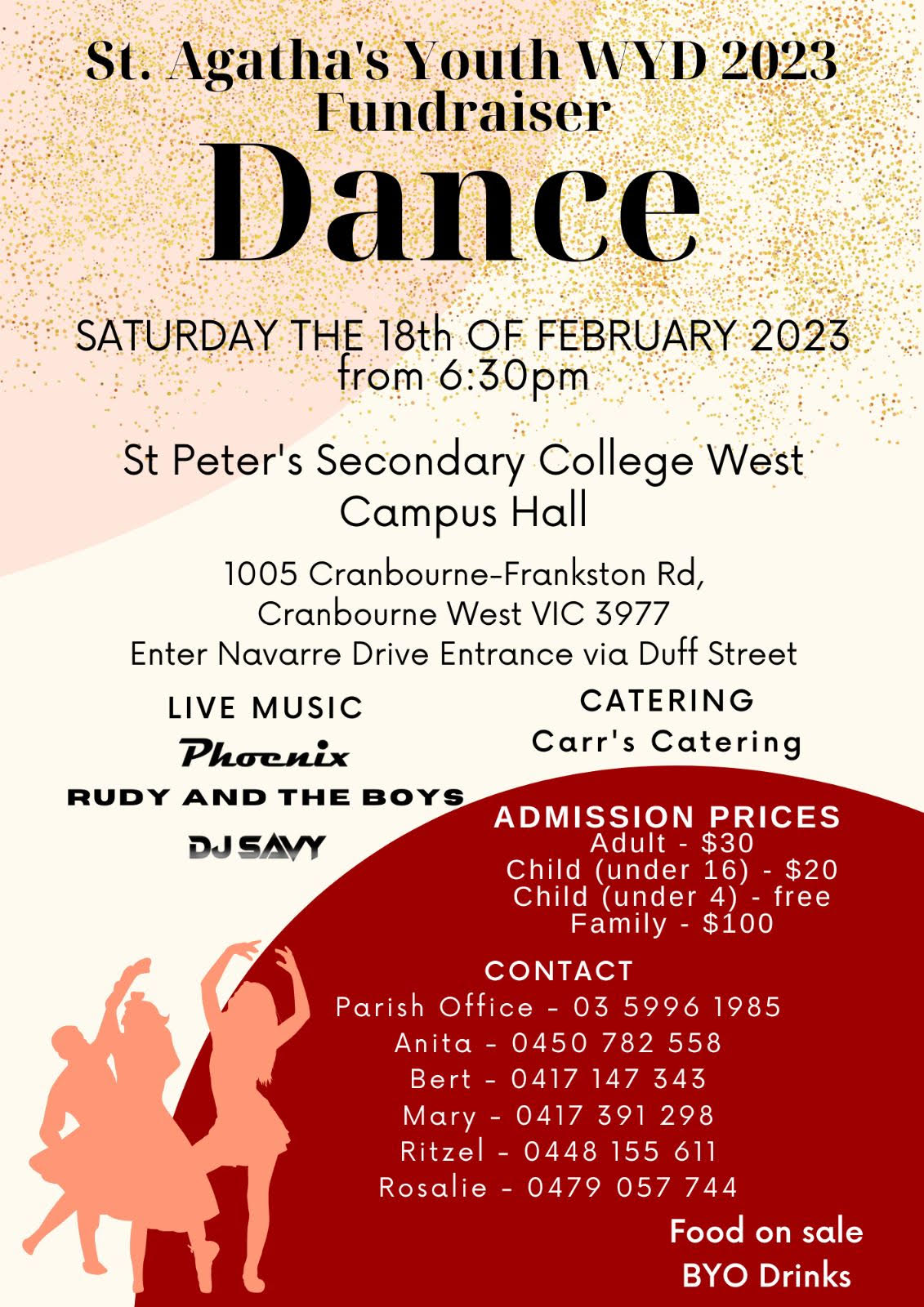 St. Agatha's Dinner Dance Saturday 18th February 2023
Fundraiser for World Youth Day 2023
Tickets on Sale this after all Mass this weekend 25th December
or from 17th January 2023 at the Parish Office
ST AGATHA'S PARISH 50TH JUBILEE
FEDERATION OF CATHOLIC BISHOPS CONFERENCES OF OCEANIA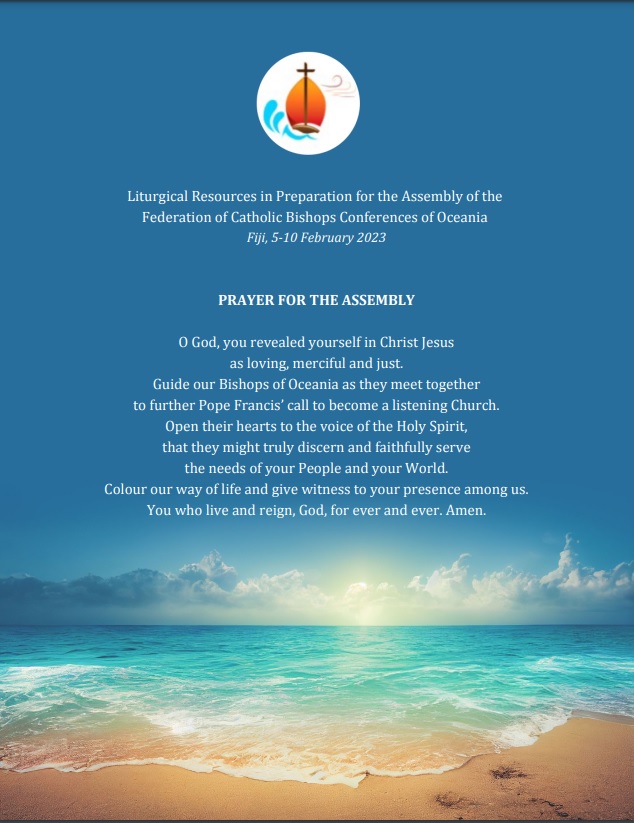 The Australian Catholic Bishops Conference is a member of the Federation of Catholic Bishops Conferences of Oceania, along with the Bishops Conferences of the Pacific, New Zealand, and Papua New Guinea – Solomon Islands.
The bishops of the Federation gather for an Assembly every four years. The last Assembly was held in Port Moresby; the next Assembly will be held in Suva in February 2023.
The Assembly next February will primarily focus on care for the oceans, which is an important part of caring for our common home, as set forth by Pope Francis in Laudato si'. Another important focus of the Assembly will be finalising the continental (Oceania region) response to the Synod of Bishops 'Document for the Continental Stage' – see https://www.catholic.au/s/article/XVI-Ordinary-General-Assembly-of-the-Synod-of-Bishops.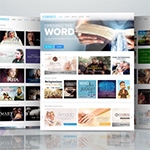 A Netflix for Catholics! Free for all parishioners for unlimited access to the best eBooks, talks, and videos in the Catholic Church today!
Since launching in early 2015, the FORMED platform has expanded dramatically, offering a wider range of resources—studies, movies, audio books, e-books, and more—from a growing number of Catholic apostolates. Initially a collaboration of Lighthouse Catholic Media, Ignatius Press, and the Augustine Institute, FORMED now also includes content from Marian Missionaries, the St. Paul Center for Biblical Theology, Sophia Institute Press, EWTN, and Catholic Answers, among others. Individuals can subscribe to FORMED, and parishes and diocese can purchase group subscriptions for the members of their flocks.
As a Free Gift to you, we have purchased a group subscription
Psalms and readings from the Liturgy of the Hours, and Mass readings.