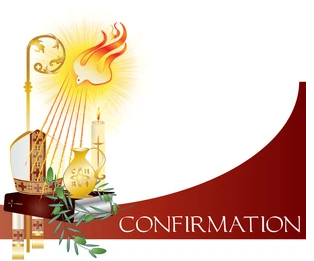 Retreat Wednesday 1st June 8.30am to 2.45pm arrive at 8.00am
NATIONAL SORRY DAY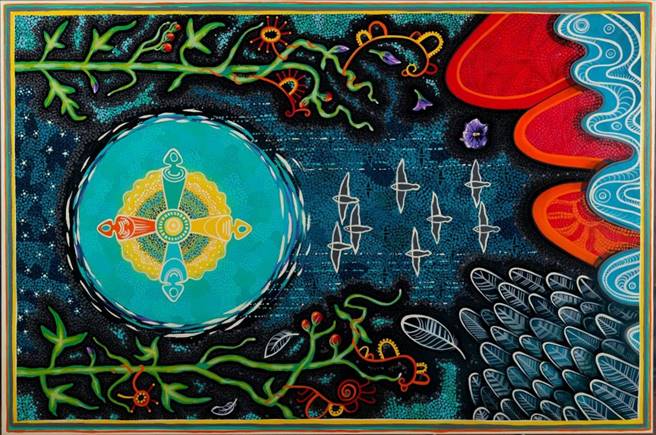 National Sorry Day

Sorry Day has been observed since 1998, one year after the Bringing Them Home report was presented in the Australian Federal Parliament. This report detailed the impact of the forced removal of Aboriginal and Torres Strait Islander children from their families. Sorry Day offers an opportunity to reflect on the hardship faced when children were taken into institutional and foster care by governments and church agencies and placed with non-Indigenous families. These Stolen Generations suffered greatly from being removed from their loved ones at such an early age, and for many the scars were life-long. However, Sorry Day is also an opportunity to "acknowledge the strength of Stolen Generations Survivors and reflect on how we can all play a part in the healing process for our people and nation."
For more information https://socialjustice.catholic.org.au/event/national-sorry-day-2022-05-26/
https://www.reconciliation.org.au/
Prayer

Almighty and loving God,
you who created ALL people in your image.
Lead us to seek your compassion as we listen to the stories of our past.
You gave your only Son, Jesus, who died and rose again
so that sins will be forgiven.
We place before you the pain and anguish of dispossession
of land, language, lore, culture, and family kinship that
Aboriginal and Torres Strait Islander peoples have experienced.
We live in faith that all people will rise
from the depths of despair and hopelessness.
Aboriginal and Torres Strait Islander families have endured the pain and loss of loved ones,
through the separation of children from their families.
We are sorry and ask God's forgiveness.
Touch the hearts of the broken, homeless, and inflicted and heal their spirits.
In your mercy and compassion walk with us
as we continue our journey of healing
to create a future that is just and equitable.
Lord, you are our hope.
Amen.
Laudato Si week running from May 22 to 29 celebrates the seventh anniversary of the publication of Laudato Si. Global events held in-person, online, or a combination of the two will be hosted each day. The events will cover Catholic teaching on biodiversity, responding to the cry of the poor, divestment, education, and eco-spirituality. Australian events include a free online screening of the movie Regenerating Australia hosted by Caritas EarthCare. Tuesday May 17, 2022. 6.00pm to 8.00pm. BOOKINGS essential.
TryBooking
For the full list of global events and information head to Events
In 2016 the Catholic Bishops of Victoria released a statement which said: Our goal must be a society where all people are safe in their home, families and close relationships; where violence and abuse are not acceptable; and where all relationships respect the equality and dignity of each person. This is part of the Gospel vision of love and respect. With domestic and family violence on the rise, we are all called to work in ways to eliminate this type of violence. This statement remains as relevant today, with an increase in incidents of domestic and family violence. To learn more about a Catholic response to Domestic and Family violence you can read the statement at: Download PDF
ALAN AIMES - TOUCH OF HEAVEN
St Agatha's Catholic Church
129 Sladen Street, Cranbourne

Friday 10th June 2022
Beginning with Rosary at 6.30pm
For more information www.alanames.org
TRINITY FAMILIES 2022 APPEAL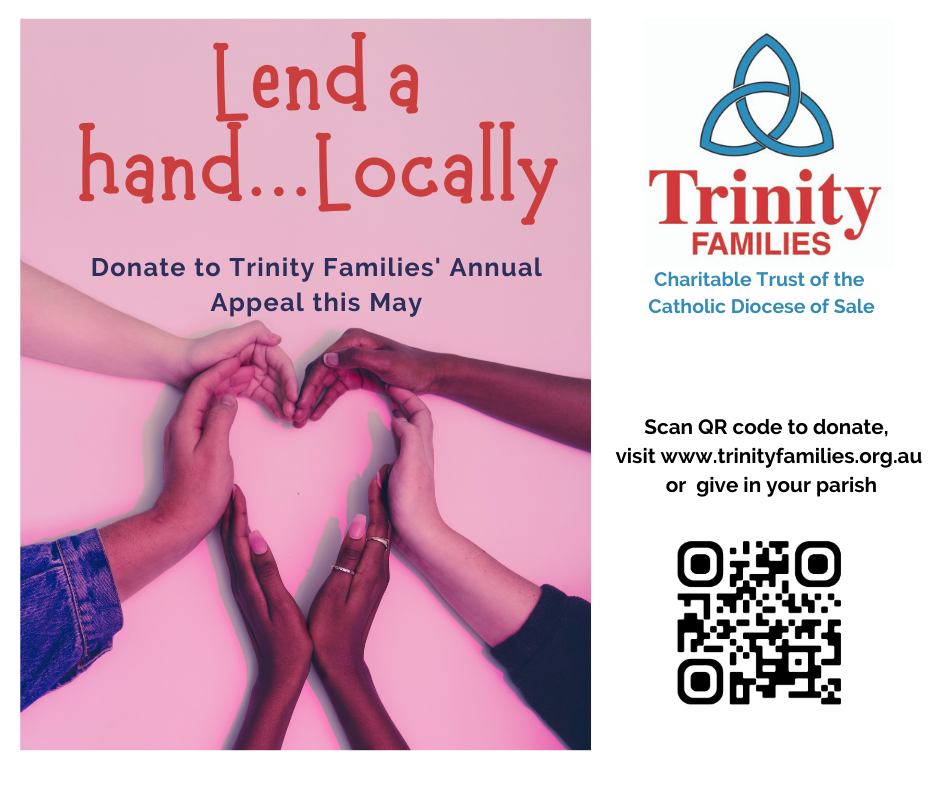 BISHOP'S LAUNCH STATEMENT FOR TRINITY FAMILIES 2022 APPEAL: I am delighted to launch the Diocese of Sale Trinity Families 2022 May Appeal. Trinity Families is the charitable arm of the Catholic Diocese of Sale and provides funding through grants to other charities working to provide services and programs for families within the boundaries of the Diocese. Since its inception (originally named Bishop's Family Foundation), Trinity Families has provided over $2,000,000 in grants. For the past two years this Annual Appeal has been on hold due to the impact of COVID but Trinity Families, through sound management, has still been able to provide grants in 2020 and 2021.

Your donation to the Trinity Families 2022 Appeal will assist with the ongoing support given by Trinity Families throughout the Diocese of Sale. I encourage you to give generously and pray for those who are providing the programs and services.
All donations of $2 or more are tax deductible.
Junior RCIA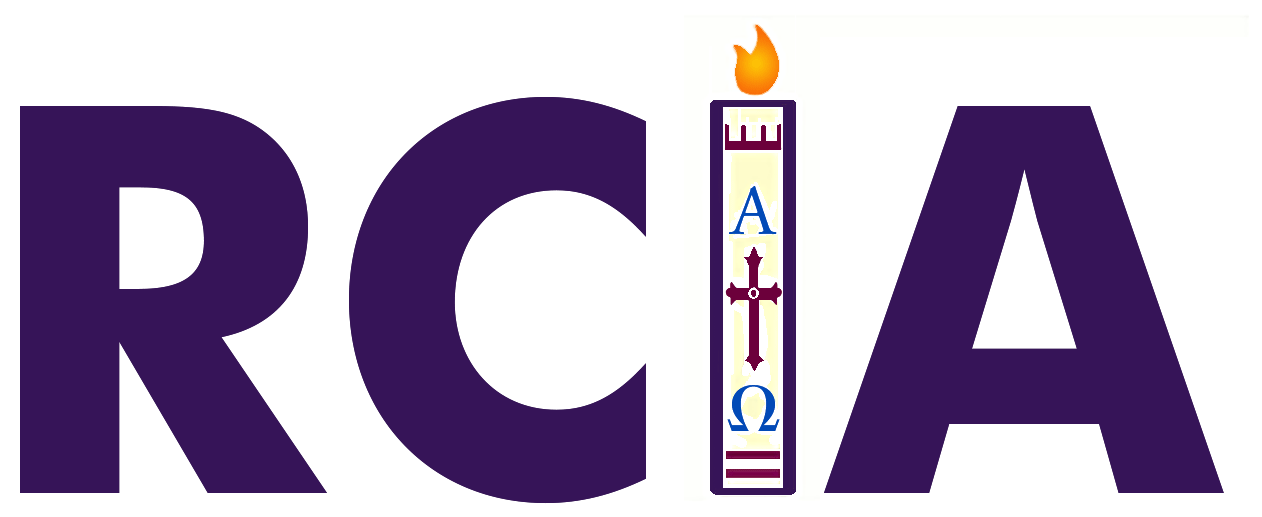 For older children Year 7 to 17 years of age who have not completed their Sacraments.
Saturday 4th June 2022, 4.00pm to 5.30pm
To register your interest, contact Sr Victoria on 5996 1985.
PARISH SACRAMENTAL INFORMATION DATES FOR 2022
Reconciliation Parent Information Session & Workshops: 7.00pm Wednesday 9th February & Wednesday 16th February St Agatha's Church. Parents need only attend one session.

Confirmation Parent Information Session & Workshops: 7.00pm Wednesday 4th May & Wednesday 11th May St Agatha's Church. Parents need only attend one session.

First Communion Parent Information Session & Workshops: 7.00pm Wednesday 20th July & Wednesday 27th July St Agatha's Church. Parents need only attend one session.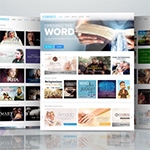 A Netflix for Catholics! Free for all parishioners for unlimited access to the best eBooks, talks, and videos in the Catholic Church today!
Since launching in early 2015, the FORMED platform has expanded dramatically, offering a wider range of resources—studies, movies, audio books, e-books, and more—from a growing number of Catholic apostolates. Initially a collaboration of Lighthouse Catholic Media, Ignatius Press, and the Augustine Institute, FORMED now also includes content from Marian Missionaries, the St. Paul Center for Biblical Theology, Sophia Institute Press, EWTN, and Catholic Answers, among others. Individuals can subscribe to FORMED, and parishes and diocese can purchase group subscriptions for the members of their flocks.
As a Free Gift to you, we have purchased a group subscription
Psalms and readings from the Liturgy of the Hours, and Mass readings.