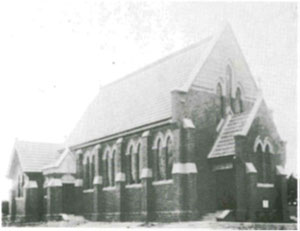 A New St Agatha's Rises: 1929
Sunday January 20th 1929 was an important day for the Cranbourne community. It was the opening of the new brick church to replace the old wooden structure that served the parish so well for the last 70 years. It was opened by His Grace Archbishop Mannix who was paying his first visit to Cranbourne.
The attendance that greeted Dr Mannix was one of the largest ever seen at a function in Cranbourne and included a dozen priests. It was quite an achievement with non-Catholics also contributing to the donations, which demonstrated the fine spirit existing amongst all the denominations in the town. Archbishop Mannix praised Fr Little as an able and zealous pastor and thanked all for erecting a building that would honour and glorify God. Fr Little would continue serving the community for many more years until 1942.
The 1940s and 1950s
The 1940s and 1950s were a time when the area grew, and as such moved the parish closer to independence. The first such movement was through the Berwick parish which gained its independence from Dandenong in 1956. The Archbishop established seven new parishes with Berwick being one of them. It was then reported that the Holy See had approved the detachment of eight parishes, all in Gippsland, from the Archdiocese of Melbourne to the Diocese of Sale. The parishes were Korumburra, Wonthaggi, Daylston, Kooweerup, Iona, Pakenham, Berwick and Maryknoll. It was the first addition to the Diocese since it was set up as a separate Diocese in 1887.

In 1952 St Agatha's oldest parishioner, Mr John Donnelly died at the grand age of 93. Born in 1859, he would have been only 2 when the first Church, the old wooden St Agatha's was opened. He married Elizabeth Nurse and together they reared a family of five sons and four daughters, all of whom were actively involved in St Agatha's. One of them, Mr Eddie Donnelly, who passed away in 1979 at the age of 82, also did not forget that the Church had been so much a part of his life. He left behind a bequest of $492,000 to St Agatha's for Church and Educational purposes. His generous benefaction made possible the erection of the new Church and its associated school in Cranbourne.