PARISH SAFEGUARDING COMMITMENT STATEMENT (Children and Vulnerable Adults)
FAQs as a result to COVID-19...Click Here
Hours of Grace -Adoration of the Blessed Sacrament
Exposition and Adoration of the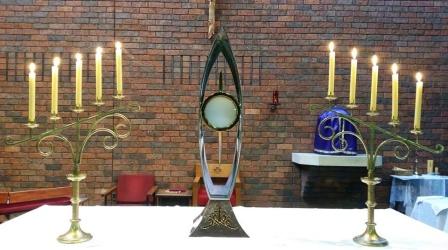 Blessed Sacrament has been extended and will continue to be Live streamed until Wednesday 8th April for 1 hour. Weekdays & Saturday after 9.30am and Sunday after 9.00am Mass. Holy Thursday for one hour after the Mass of the Lord's Supper at 7.30pm.
Jesus invites each one of us to his peaceful presence where we are always welcome and where we can truly experience the comfort of his loving embrace.
I encourage every parishioner to join us from home the office as we pray for the end to this pandemic.
Psalms and readings from the Liturgy of the Hours, and Mass readings.